NEW VISITORS
Welcome To Grace United Methodist Church
GET CONNECTED
Study/Small Group Ministry
If you would like to hear previous sermons please click on the Worship tab above.
About Grace United
Methodist Church
Welcome to Grace United Methodist Church in Copperas Cove, Texas. Here at Grace we have something for everyone and welcome everyone in the community through our doors. We strive to live out our Mission and Vision in our building and in our community. If you would like to know more please explore our website, give us a call, or come in for a visit. We would love to see you.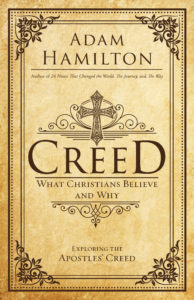 Small Group Study Opportunity:
Beginning the week of October 8, our church will undertake a 6-week church-wide study of Adam Hamilton's book Creed. We will look at what Christians believe and why as we explore the Apostle's Creed. Our goal is to have at least 100 people studying the book together in weekly small groups and the sermons will focus on the Apostle's Creed as well. The youth small group will be meeting on Sunday evenings during their regular meeting time 5:00-7:00 and the children will be working on their study during Sunday School and Children's Chapel on Sunday mornings. We will have 10 small groups for adults. Please sign-up on the registration form and select your class time. You can purchase your own book, download it digitally or buy one from the church. Childcare will be available for the Wednesday groups and if requested on another night. Sign-up today and be a part of this amazing event.
Small Group Times
Monday 6:00-7:00 pm, or 7:00-8:00 pm, Tuesday 6:00-7:00 pm, or 7:00-8:00 pm, Wednesday 6:00-7:00 pm, or 7:00-8:00 pm, Thursday 6:00-7:00 pm, or 7:00-8:00 pm, Saturday 9:00-10:00 am, Sunday 5:00-6:00 pm
The mission of the United Methodist Church is the making of new disciples of Jesus Christ for the transformation of the world. We at Grace United Methodist Church believe we can best accomplish this when we live out our Vision which is to :
Know Christ: Each member at Grace should have an intimate relationship with Jesus; Grow in His love: Each member of Grace should be given the opportunity and the availability to learn more about their faith and their Savior; Go and share His love: Each member of Grace should take the relationship that is fostered here at Grace and share it with others in our local community.
9:30 Contemporary Service
11:00 Traditional Service
9:30 Children and Adults in the main building
9:30 Jr. High and Sr. High Youth in the Activity Center